Recently The Charity Club Langkawi posted an announcement about Azlinda, a recipient in our School Support Project.
Here is a summary of their post:
At the end of last year Azlinda achieved top marks in her UPSR exams at the end of primary school and her teacher wanted to put her forward for a place in a Government boarding school on the mainland where she would receive an excellent secondary education.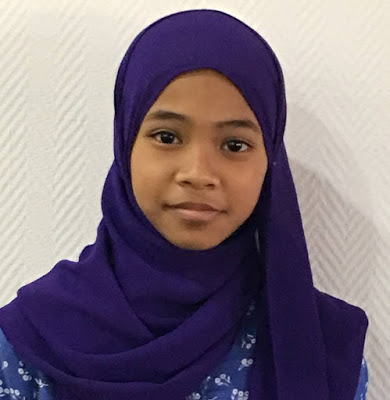 Her single mother who has 4 children at school turned down the offer as the costs were too much. When The Charity Club heard about this they immediately agreed to sponsor Azlinda as this was such a good opportunity.
We are pleased that we (The Reading Seed) could help Azlinda and the other five children with the educational costs for five children in Langkawi and commit to sponsoring her.
Azlinda says it is a beautiful school, she has lots of friends, all lessons are in English, the teachers are helpful but encourage independence, food is good, all the pupils achieved 6 straight A's and there are lots of sporting opportunities.
She of course, misses her home and family and has to make her own bed and do her washing.
Her school days start with physical exercise from 5.30 to 6.30 am, followed by prayers, breakfast and classes throughout the day, finishing with homework; she is ready for bed at around 10 to 10.30 pm. Despite the long days she is very happy and enjoys weekends when she has free time, homework and sports.
On behalf of The Reading Seed board we wish Azlinda good luck in her studies!!